Regular Expressions, aka regex
Regular Expressions, aka regex#
This chapter covers how to regular expressions to perform processing of text.
Regex, aka regular expressions, provide a way to both search and change text. Their advantages are that they are concise, they run very quickly, they can be ported across languages (they are definitely not just a Python thing!), and they are very powerful. The disadvantage is that they are confusing and take some getting used to!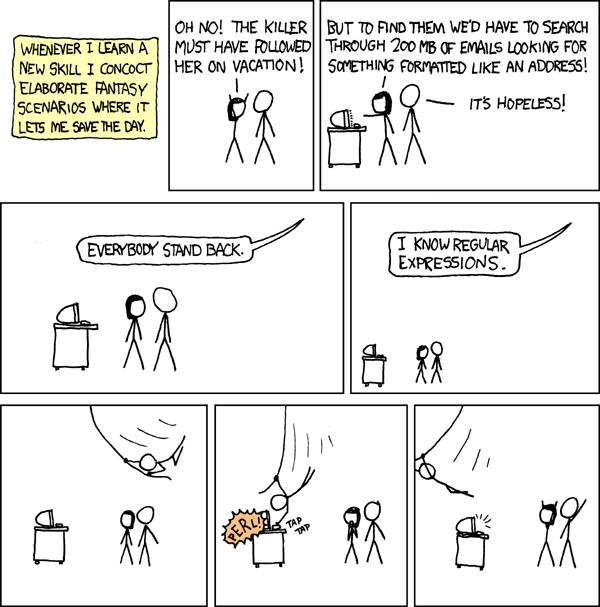 You can live code regex in a couple of places, the first is within Visual Studio Code itself. Do this by clicking the magnifying glass in the left-hand side panel of options. When the search strip appears, you can put a search term in. To the right of the text entry box, there are three buttons, one of which is a period (full stop) followed by an asterisk. This option allows the Visual Studio text search function to accept regular expressions. This will apply regex to all of the text in your current Visual Studio workspace.
Another approach is to head over to https://regex101.com/ or https://regexr.com/ and begin typing your regular expression there (regexr's cheat sheets and reference patterns are well worth checking out too). You will need to add some text in the box for the regex to be applied to.
Try either of the above with the regex string \w+\s. This matches any occurrence of the word 'string' that is followed by another word and then a whitespace. As an example, 'string cleaning ' would be picked up as a match when using this regex.
Within Python, the re library provides support for regular expressions. Let's try it:
import

 

re





text

 

=

 

"It is true that string cleaning is a topic in this chapter. string editing is another."




re

.

findall

(

"string \w+\s"

,

 

text

)



['string cleaning ', 'string editing ']

re.findall returns all matches. There are several useful search-like functions in re to be aware of that have a similar syntax of re.function(regex, text). The table shows what they all do
| Function | What it does | Example of use | Output for given value of text |
| --- | --- | --- | --- |
| re.match | Declares whether there is a match at the beginning of a string. | re.match("string \w+\s" , text) is True | None |
| re.search | Declares whether there is a match anywhere in the string. | re.search("string \w+\s" , text) is True | True |
| re.findall | Returns all matches. | re.findall("string \w+\s" , text) | ['string cleaning ', 'string editing '] |
| re.split | Splits text wherever a match occurs. | re.split("string \w+\s" , text) | ['It is true that ', 'is a topic in this chapter. ', 'is another.'] |
Another really handy regex function is re.sub, which substitutes one bit of text for another if it finds a match. Here's an example:
new_text

 

=

 

"new text here! "




re

.

sub

(

"string \w+\s"

,

 

new_text

,

 

text

)



'It is true that new text here! is a topic in this chapter. new text here! is another.'